10/12/08 20:48 Archived in:
News
Da Funk@United Colors Of House Radio,
Sunday, December 14th, 2008., 7:00 - 10:00 PM (GMT)
Tune In!
Further Informations on:
www.ucoh.co.uk
Mustafa-Aqui Se Faz Aqui Se Paga (incl. Da Funk's Redux Vocal)
is now available exclusively on
traxsource.com
.
Support already coming from DJ Pippi, King Britt, Dom Navarra, Anto Vitale among others.
Enjoy!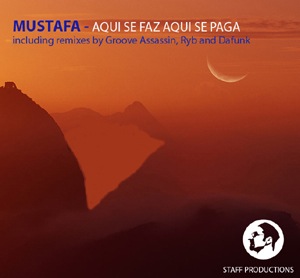 Review (spiritofhouse.com):
What a magnificent release to look out for courtesy of Mustafa who presents "Aui se faz aqui se paga" featuring a sensitive vocal courtesy
of Alice over a smooth mid tempo groove that is enriched with melodic keys, sweet guitar and jazzy saxophone. Groove Assassin reworks
the track into a smooth yet deeply groovin' affair featuring melodic keys and a lovely guitar, while RyB go deep on their take and use
atmospheric chords to give the track a warm feel. Lastly Da Funk serves a laidback, funk drenched interpretation that drops most of the
vocals to let the melodic keys and jazzy saxophone do the talking.